Digital Camera 48MP 4k Camera Vlogging Camera for YouTube 30FPS with WI-FI 16XZoom Video Camera Camcorder 2021 New Recording Camera
【4K 48MP Camera】:

The 4k digital camera, with 4k/30fps smooth video resolution and photographs at 48MP, can better help you capture every excellent moment while vlog recording.Meanwhile the vlogging camera supports 16X Digital Zoom(Not Autofocus),Video Pause,Recording while Charging ,Motion Detection, Loop Recording, Continuous Shooting,Silent Recording , Self-Timer.The camera can be as a nice gift for you and your family or friends.

【Camera with Wide Angle LensMacro Lens】:

This digital vlogging camera comes with a 52mm wide angle lens with macro lens ,so the camera is great for large scenery and close-up shooting of the micro object. It can widen the viewing angle for a wider range of scenery.The macro lens allows you to take close-up photography with clear details such as flowers and insects etc.Mode button is integrated on the camera's top knob, you just turn the knob to switch photos, videos and other modes.

【WebcamHDMI Output】

The vlogging camera can be connected the PC with USB cable. Then you can transfer your files to your computer by choosing "Mass storage mode"or take it as a webcam by choosing the "Camera mode"so as to enjoy video chatting or live streaming.If you want to play the video you shoot, the digital camera support HDMI function,you can use HDMI cable directly connected to the HDTV (not included HDMI Cable).

【Pause functionRecording while Charging】

This 4k digital camera have an excellent PAUSE FUNCTION which allows you to continue recording in the same File without restarting a new one. Just pause or restart the recording by pressing the "PHOTO" symbol on the camera.This digital vlogging camera comes with a 1500 mAh lithium-ion battery and supports recording while charging, allowing you to plug into AC or a power bank for charging or continuous use.

【Continuous shooting3-inch Flip Screen】

The digital camera support 5 continuous shooting function, so that you can't miss every wonderful shot and easily choose the best photo you want. This vlogging camera has 3-inch full-frame view screen and supports photo flash. You can flip the screen to take a selfies or videos of yourself or take a picture in low light.It takes a micro SD card up to 128GB(Micro SD card excluded ).
Description:
Product name: 48 million digital camera
Image sensor: CMOS 13 million pixel sensor, with a maximum interpolation of 48 million pixels
Storage medium: external TF card/HCSD card up to 128GB (this product does not contain a memory card)
Sensitivity: Auto, ISO100, ISO200, IS0400
Lens: fixed lens F/3.2, f=7.36mm
Focus range: 1.0m~infinity
Still image: Format: JPEG Resolution: VGA, 1.2M, 2M, 3M, 5M, 8M, 12M, 14M, 20M, 24M, 30M 48M (software interpolation)
Video clips: Format: MOV Resolution: 4K24FPS(2880X2160), 2.7K30FPS(2688×1520)2K30FPS(2304* 1296), FHD_ 1920X1080 (120FPS), FHD_ 1920X1080 (60FPS), FHD_ 1920X1080 (30FPS), HD_ 1280×720(240/120) /60/30FPS), VGA_ _640 X 480 (30FPS)
Zoom: 16X digital zoom (maximum)
WIFI: Support
External MIC: support
Time-lapse shooting: support
IR fill light <1.0m range Photo: on/off Video: on/off
White balance: Auto/Daylight/Cloudy/Tungsten light/Fluorescent light/Fluorescent light1/Fluorescent light 2
Exposure compensation: -2.0EV~+2.0EV
Selfie: Off/2 seconds/5 seconds/10 seconds/15 seconds/30 seconds
Computer interface: camera: USB2.0 (high speed), removable disk: USB2.0 (high speed)
Automatic shutdown: off/30 seconds/1 minute/2 minutes/3 minutes/5 minutes
LCD screen: 3.0-inch ultra-high-definition screen (16: 9);
HD output: HDMI output interface
Languages: English, Spanish, Portuguese, Russian, Simplified Chinese, Traditional Chinese, German, Italian, Latvian, Polish, Romanian, Slovenian, Ukrainian, French, Japanese, Korean, Czech
Power supply: Li-ion battery NP-40
Battery capacity: 1500 mA
Features:
1.3.0 HD folding screen
2. Support recording while charging
3. Support MHDI
4.4K HD video
5.4800 million high-definition pixels
6. Time-lapse recording function
7. Support external MIC
8. Support WiFi function
9. Slow motion video
10.Time-lapse photography
11. Motion detection recording
12. Auto focus
Scenes to be used:
1.vlog/take short video
2. Friends/family gathering records
3. Course recording
4. Meeting minutes
5. Dance recording
6. Wedding recording
7. Travel records
The package contains:
1x Digital camera
1x Battery
1x English manual
1x Lens (with lens)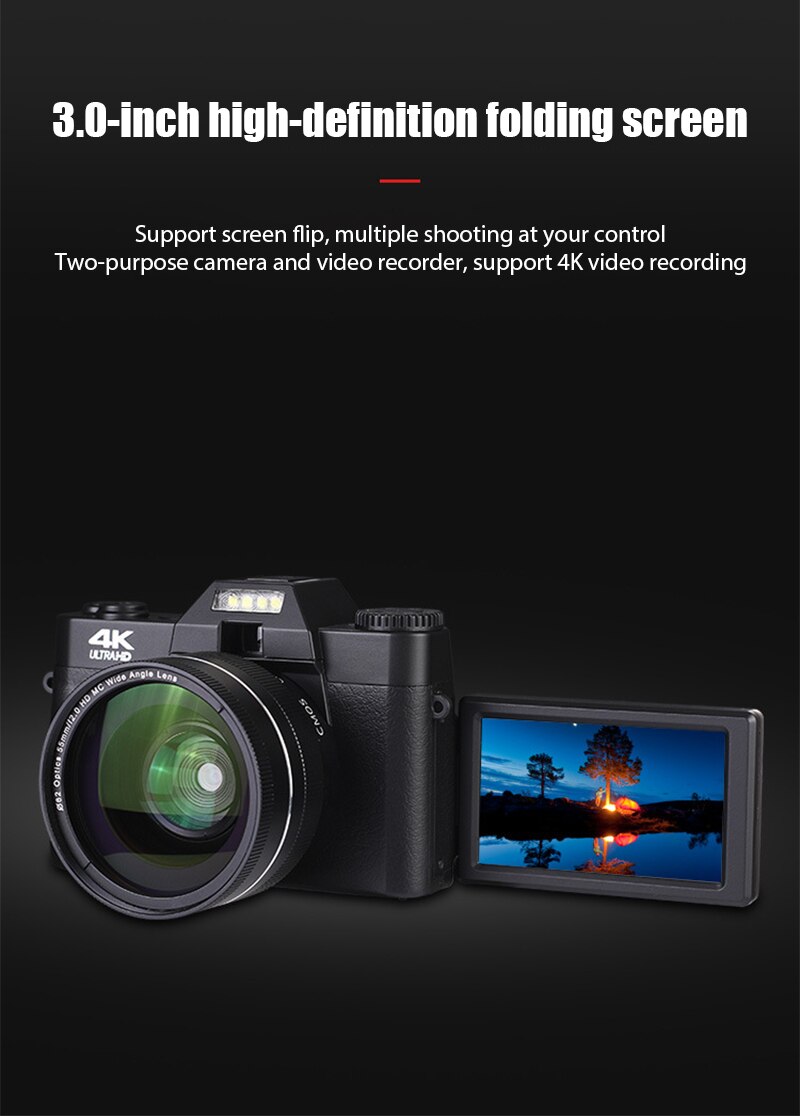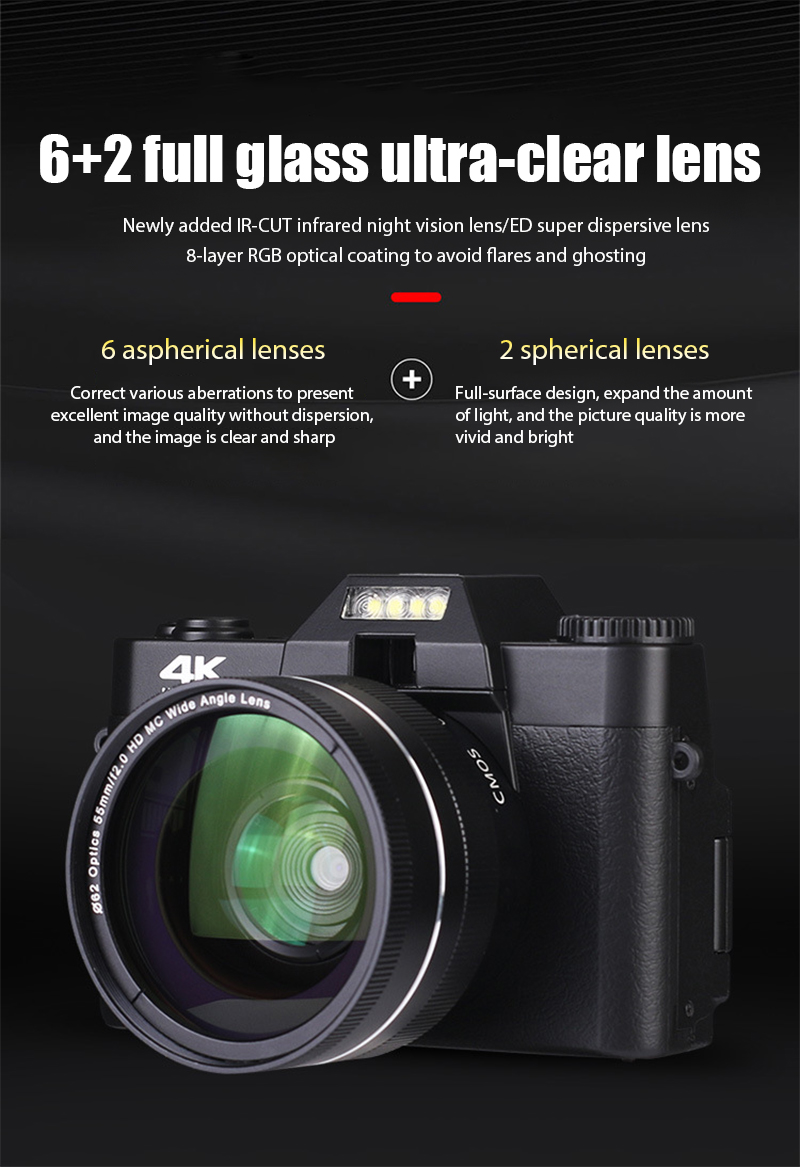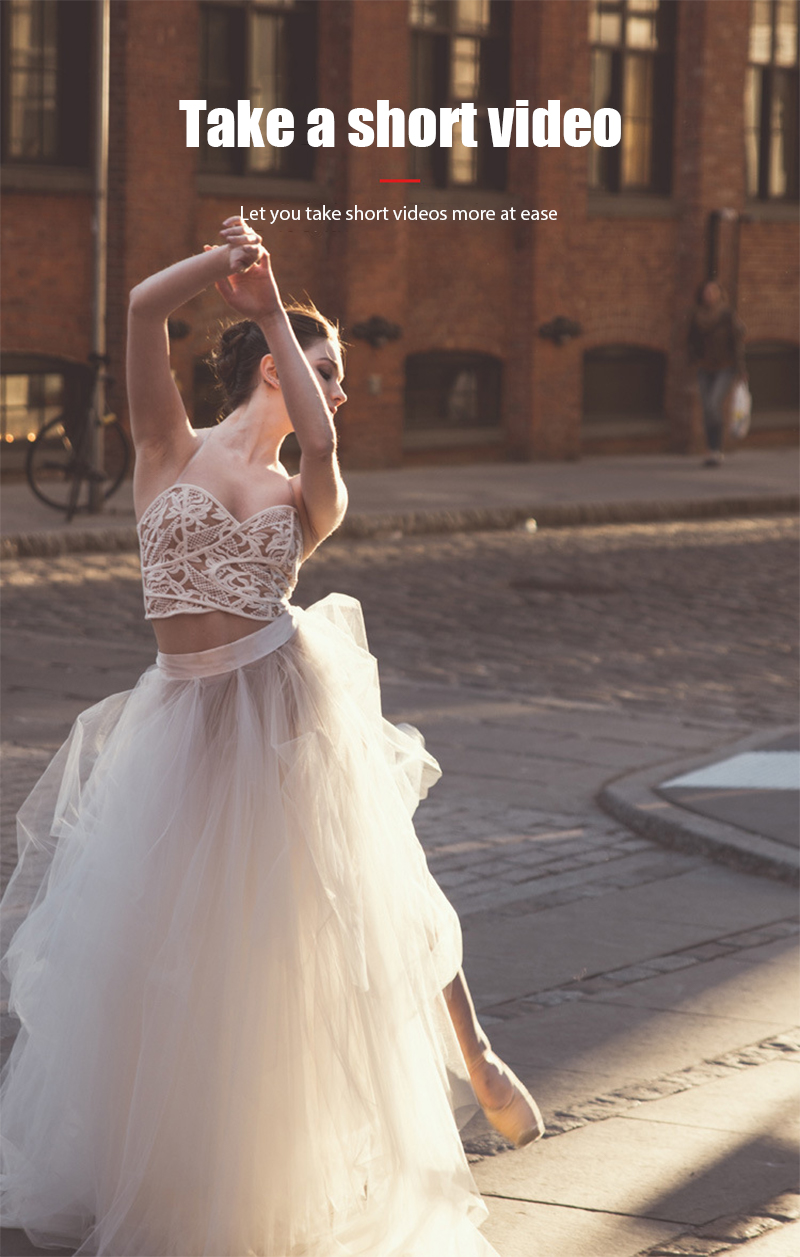 Real Buyer Show